What is Grand Farm?
Grand Farm is a research and education initiative, powered by Emerging Prairie, that aims to energize the Fargo area (and beyond) in the field of agriculture technology (Agtech).
The Grand Farm serves as a test site for various emerging technology innovations in agriculture. The initiative is designed to inspire collaboration to develop a "farm of the future", with the potential to solve critical issues for farmers worldwide.
Grand Farm brings growers and problem solvers together for collaboration and rapid prototyping. EarthScout is lucky to have the opportunity to partner with Grand Farm on this initiative through our participation in the Plug and Play Agtech accelerator program, as our mission is to help growers optimize growth, reduce inputs, conserve resources, and build living soils for a stronger, healthier future.
EarthScout equipment at Grand Farm
We have some of our newest technology (currently in beta test) installed at the Grand Farm along with some of our existing commercial products. You may refer to the map at the top of this blog for exact locations of the installations.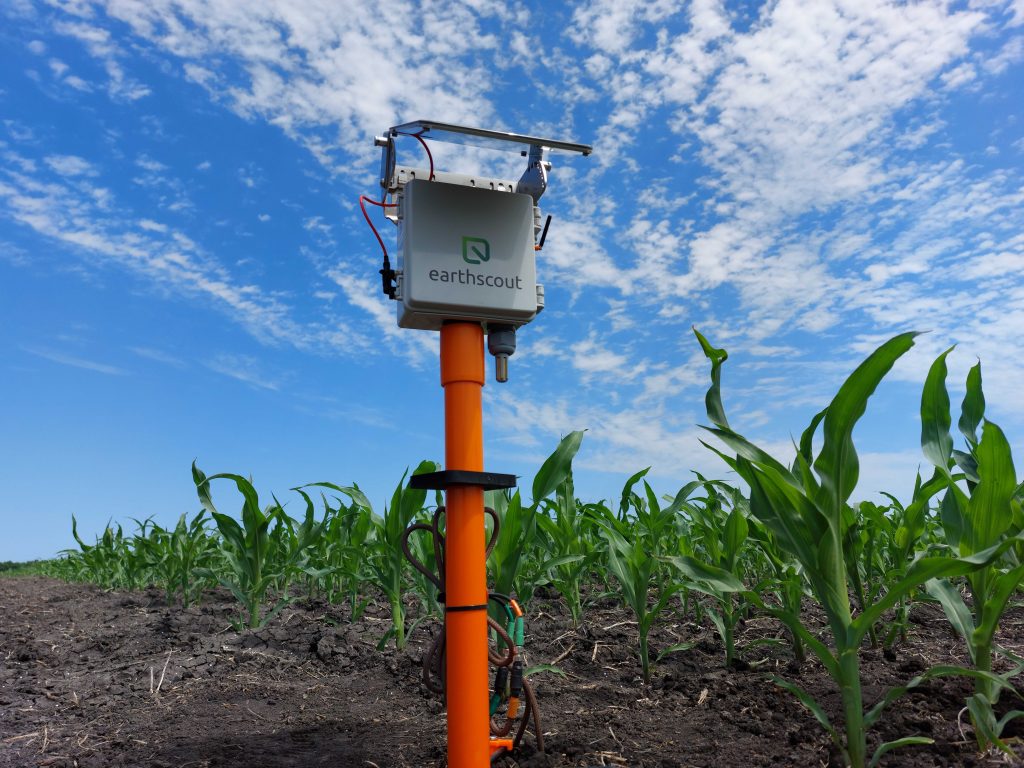 L400 Precision Ag Remote Sensor
An L400 is installed in a cornfield due north of the parking lot at Grand Farm. The L400 model has an air temperature and humidity sensor that provides valuable insights regarding growing degree days, as well as two soil TDR probes that measure soil temperature, moisture, and electroconductivity. Measuring soil moisture at two depths tells you how water is moving through your soil, how much available water the plant has, and aids in finding your field capacity for water.
The data is visible in the EarthScout app and updates every 45 mins.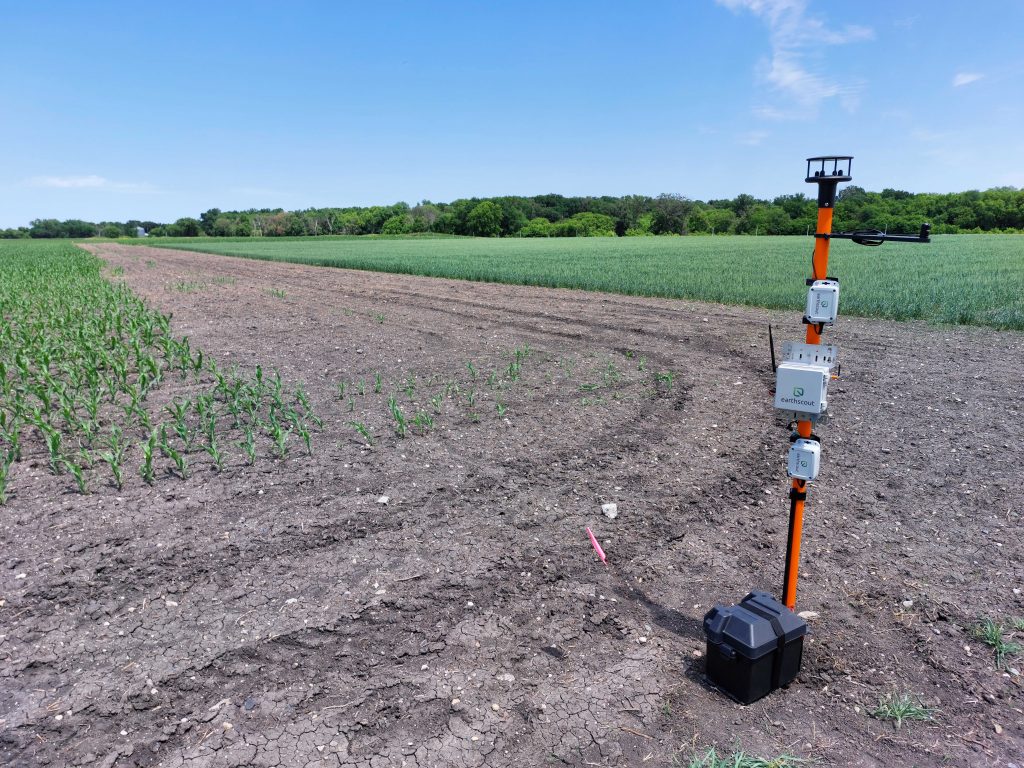 EarthScout Weather Station – a new development (not currently available for purchase).
Our weather stations measure air temperature and humidity, as well as solar radiation, wind speed, and wind direction. Hyper-local weather data provides growers with valuable information for precision decision making. Most rural areas rely on weather data from over 10 miles away, which can vary greatly with weather on your farm. With more precise, continual weather information being collected on your farm, you can more accurately forecast pest and disease emergence, aiding in your ability to save money on resources and labor.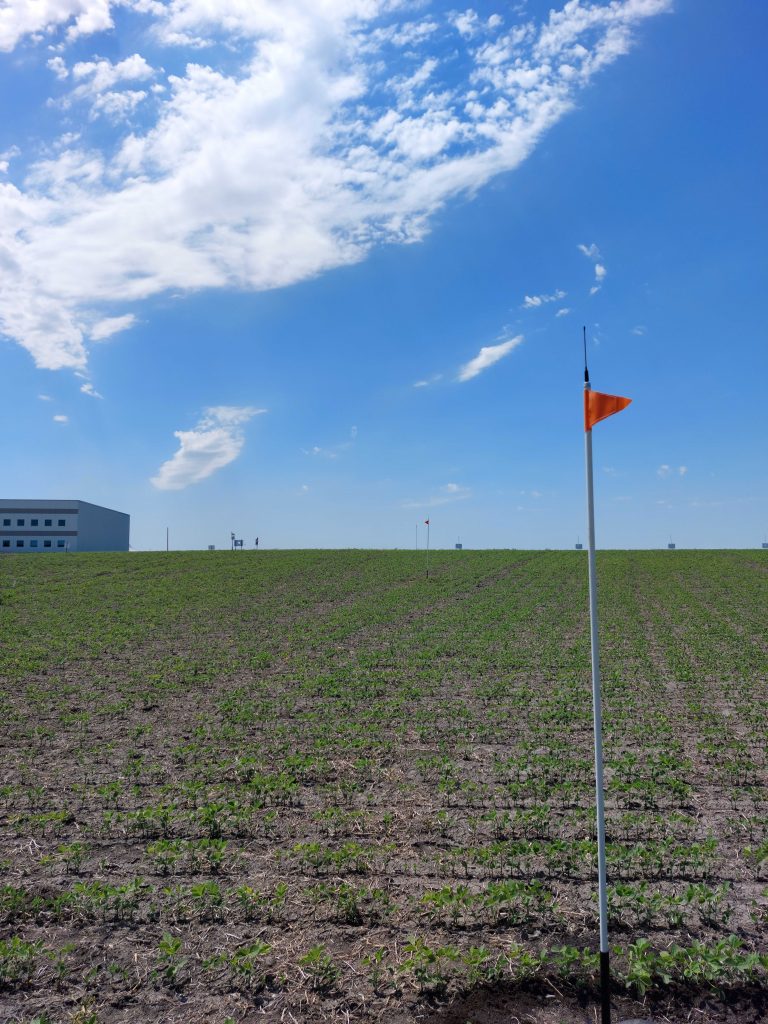 Soil-Cub – a new development (not currently available for purchase).
Soil-Cub provides even more below ground data for growers over a greater area. Soil moisture, temperature, and EC data are gathered and communicated back to an EarthScout Gateway unit, which sends data from multiple Soil-Cubs to your EarthScout app.
In this case, the installed EarthScout Weather Station is mounted on the same instrument pole as an EarthScout Gateway.
We have installed 5 Soil-Cubs throughout the Grand Farm. You can view one Soil-Cub in the Sunflowers to the west of the event tent at Grand Farm. It is buried in a tube below ground, but is marked by an antenna flag so you can find it easily. There is also a Soil-Cub in a soybean field north of the L400 unit, as well as three Soil-Cubs strategically positioned at various elevations in a soybean field east of the weather station.
Visiting the Grand Farm
You can visit the Grand Farm for one of their many upcoming public events this summer, and while you're there – you can check out our installed equipment!
Field Days– an event highlighting the work of the many Grand Farm partners and what they are doing across the region…. There is one day left
• August 12, 2021 from 12:00pm-1:30pm TOPIC: Sensing/Identifying of Plants
Innovation Days – an event highlighting the innovators and risk-takers in the region, and how their work is affecting the industry.
• August 26, 2021 12:00pm-1:30pm Topic: Farm of the Future Design
• September 23, 2021 12:00pm-1:30pm Topic: Rural Connectivity
Harvest Hours – a space for startups, corporate entities, growers, academia, policymakers, and the public to come together to connect around ideas. All events go from 4:00pm-5:00pm.
• Hosted every Thursday starting May 6, 2021
Grand Farm is also host to a number of conferences. A few to note coming up…
Cultivate – an emerging technology in agriculture conference.
• Thursday, July 15th.
• VIRTUAL and FREE! Register HERE
Autonomous Nation – a conference on energy, agriculture, and urban air mobility.
• Thursday, September 16th, 2021
• More information coming soon regarding registration
Space Ag Conference – a half-day conference technologies to elevate the future of Agtech in space.
• Thursday August 19th, 2021 12-5pm
• More information coming soon regarding registration
"There are a lot of interesting things going on at the Grand Farm this year! We are excited to have EarthScout sensors installed on the farm and look forward to diving into the EarthScout app to learn more about our agronomic data and how this platform may serve growers in our area in the future."

-William Aderholdt, PhD / Director, Program Management Office at Grand Farm.
We want to thank everyone at Grand Farm and Emerging Prairie for their commitment to helping farmers excel. We look forward to seeing what the future holds for agriculture and ag innovation through this initiative.