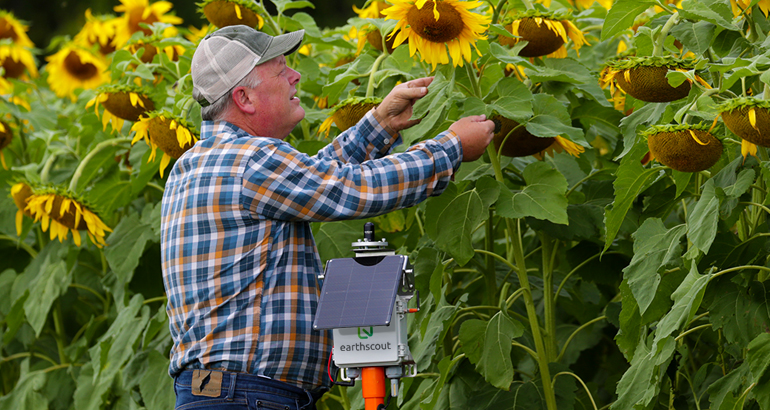 Growers are receiving continual pressure from various forces to streamline operations, protect the environment, and do more with less. As a result, Growers are trending toward more data-driven practices that give them better visibility to their growing environments to manage costly crop inputs more effectively.
EarthScout® is a global company with Midwestern roots in the heartland of agriculture and our products are proudly manufactured in the USA. Our company is comprised of international experts who share a passion for helping growers to innovate through the use of timely data.
At EarthScout, we are growers helping growers develop smart, industrial grade tools for gathering useful, grower-owned data. We help growers optimize growth, reduce inputs, conserve resources, and build living soils for a stronger, healthier future.
Our vision is to create the world's premier community of science-minded growers dedicated to advancing living soils and sustainable agriculture using an intuitive and robust Internet of Things (IoT) platform that promotes collaboration, education, and applied data analytics. We invite you to join us!
Contact a sales representative today to learn more about how EarthScout works, or to get a quote!
Leadership Team
EarthScout's leadership all come from an agriculture background and share a commitment to the education and support of growers in their effort to develop and maintain living soils.
Troy Schmidtke
CEO – Business Leader
Troy grew up on his family's dairy farm in Southern Minnesota. He holds a BA in Chemistry and a MS in Civil and Environmental Engineering. Troy is a successful entrepreneur with over 20 years of experience in business development and manufacturing operations. Troy acquired Design Ready Controls, Inc., a small family business and grew it over the past 10 years at an average annual rate of 20 percent. Today, Design Ready Controls is a technology and manufacturing leader with operations in Minnesota, Oklahoma, and Virginia. At Design Ready Controls he developed, was awarded, and effectively leveraged 4 technical patents and numerous trademarks, copyrights, and trade secrets for rapid business growth. Troy founded Industrial Smart and its flagship product EarthScout in 2017.
Dipesh Karki
CTO – Technology Leader
Dipesh is an electrical engineer with over 20 years of experience. He is an expert in electrical controls and software, and has a proven record for developing new technologies. During his career, he has led the research & development division for a major controls company, and has over 15 years of experience managing international development teams in Asia.
Josh Krenz
COO
Josh Krenz's agriculture business and marketing knowledge extends to both domestic and international markets in the areas of precision agriculture, nutrients, agricultural inputs, plant growth regulators, seed and animal health. Previously, Josh has worked for Bader Rutter & Associates and Land O' Lakes/WinField Solutions in agriculture business leadership roles. In addition to his responsibilities at EarthScout, he is also the Founder/CEO of Vivid Life Sciences, a sustainable plant physiology company, as well as the Co-founder/President of Windland Flats, a grass-fed beef brand and farm. Krenz was raised on a diversified Wisconsin farm and holds an MBA from Colorado State University and a BS in agricultural marketing from UW-River Falls. Josh has a proven track record in executing multiple marketing, sales, distribution and new technology/product acquisition strategies.
John Hacker
CFO

John has more than 15 years of manufacturing industry experience and 25 years of finance experience. He is currently Chief Financial Officer overseeing finance, human resources, and facilities. John has a CPA (inactive) and is a member of the METRO Blue Line Extension Business Advisory Committee (BAC) and Workforce Innovation and Opportunity Act (WIOA) Board. John graduated from Gustavus Adolphus with a Bachelors in Accounting and is currently pursuing a Masters in Finance at Bellevue University.
Dr. David Mulla
Precision Agriculture Leader
Dr. Mulla is a professor and Larson Chair for Soil & Water Resources in the Dept. of Soil, Water, and Climate at the Univ. of Minnesota, and Director of the Precision Agriculture Center. Dr. Mulla is an internationally recognized researcher and scholar, and an expert for crop modeling, remote sensing, water quality, and soil conservation.
Publications:
Mulla and his coauthors (including 43 MS and PhD students) have produced 199 publications with very high scientific impact, and have received nearly $21 million in extramural funding for research
He has 36 years of experience in measuring and modeling impacts of alternative crop and animal productions systems on crop yield, soil moisture relationships, crop nutrient uptake and nutrient cycling
EarthScout & Design Ready Controls – A Strategic Partnership
EarthScout products are manufactured at Design Ready Controls, a sister company of EarthScout that specializes in manufacturing control panels for major domestic and international corporations. Design Ready Controls has multiple world-class manufacturing facilities across the USA and uses only industrial grade parts in manufacturing EarthScout products, ensuring optimal performance and durability in the most challenging growing environments.
EarthScout Company Facts:
Locations: EarthScout Lab Minnesota, EarthScout Lab Nepal
Design Ready Controls Company Facts:
Employees: 400+
Locations: Corporate HQ Minnesota, Manufacturing OK, VA, MN