EarthScout is excited to be participating in the University of Nebraska Testing Ag Performance Solutions (TAPS) program for the first time in 2023. A new product is featured: the EarthScout Weather Station, WeatherScout®.
The EarthScout team first met TAPS staff members at a local event in Nebraska where it was learned they were looking for another weather station to add to the research farm.
Another weather station would allow their participants to view real-time, daily, and historical temperatures, wind speeds and direction, precipitation, and more from the research farm which in turn would help them make management decisions on their plots.
This data benefits participants in the program who do not live locally near the research farm in North Platte. Participants are able to log into the EarthScout Mobile and Web APP to see weather data from the UNL TAPS farm anytime, anywhere.
What is the UNL TAPS Program?
The University of Nebraska Testing Ag Performance Solutions is an innovative and interactive program developed by the University for producers, extension professionals, industry leaders and others involved in agriculture.
Instead of a teacher and student model, the program offers a number of different interactive real life farm management competitions open to anyone in Nebraska and beyond.
The low risk environment of these competitions allows participants to test a wide variety of strategies and technologies and provides them with access to a large dataset at the end of the year.
The TAPS Farm is located in North Platte, NE and the program has been running for the last 7 years.
WeatherScout Installation Day
Our Field Technician, John, and Technical Agronomist, Anna, installed the WeatherScout at the end of April and data has been coming in ever since.
If you would like to see the WeatherScout in person, it is located near the intersection of E State Farm Road and Highway 83 in North Platte Nebraska (see map below).
Through this partnership at the TAPS farm we have been able to gather valuable insight on how consumers/users want to see their weather data presented in our web and mobile app. This insight sparked some changes to the UI/UX of our web and mobile app to make the user experience in the apps smoother and user friendly.
WeatherScout is now available for purchase.
WeatherScout Features
WeatherScout collects data and sends it to the EarthScout APP via a cellular connection every 15 minutes.
WeatherScout features an ATMOS 41 weather sensor, and there are no spinning weathervanes and no moving parts, which means little to no maintenance is needed to keep the WeatherScout running.
WeatherScout monitors 11 different weather related variables including:
Air Temperature
Precipitation
Wind Speed
Wind Gust
Wind Direction
Humidity
Vapor Pressure
Barometric Pressure
Solar Radiation
Lightning Strike
Lightning Count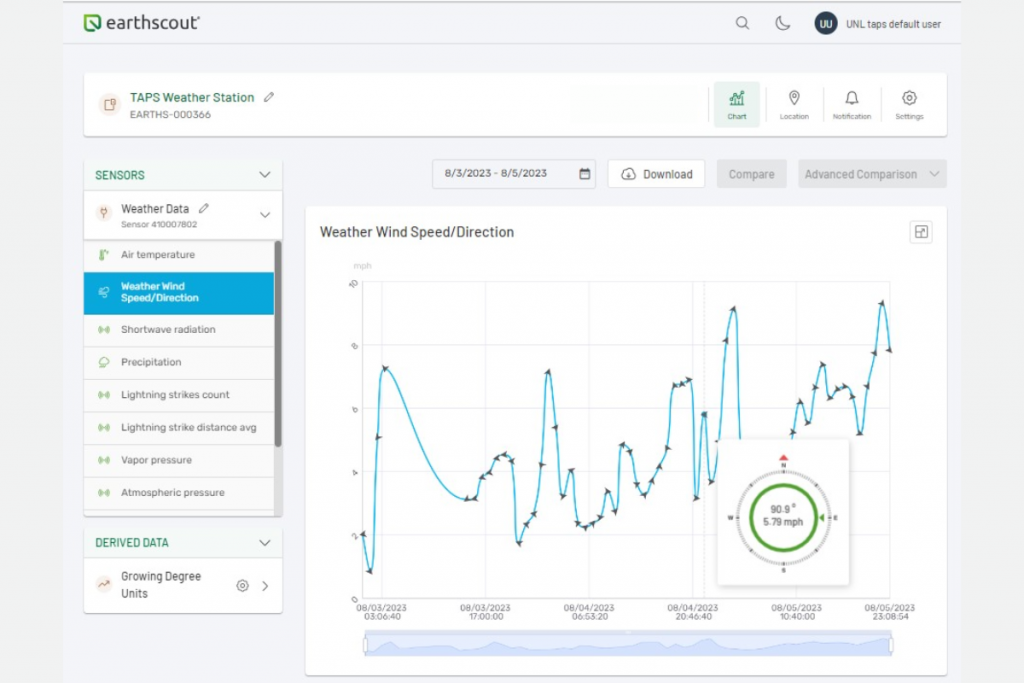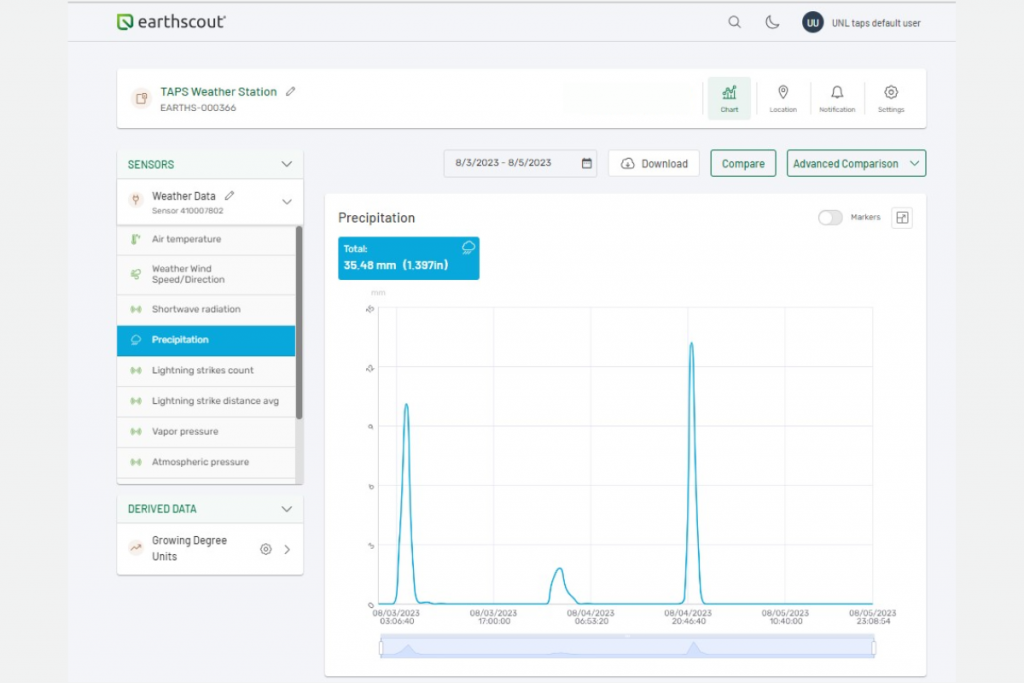 Severe Weather Happens
On July 22nd, 2023, the UNL TAPS Farm was battered with damaging hail. The wind and hail damaged test plots south of the TAPS farm in North Platte. The WeatherScout weather station was not damaged in the storm. To read more about the storm click here.
Why Are Local Weather Stations Important?
We all know weather is never uniform and changes by the minute. How close is the nearest weather station to you? If the station is more than a few miles away from your farm how accurately does it represent the weather on your farm? A weather station on your farm allows you to collect valuable local data straight from the farm to assist you in various decision making processes.
Advantages of a Weather Station on Your Farm:
View data in real time from your farm to your smartphone or computer.
Hyperlocal precipitation data enables you to know exactly how much rain fell in your location, not a weather station 10+ miles away.
Hyperlocal wind speed and direction can give you insights on local spraying conditions or allow you to provide wind speed and direction data for any storm damage on the farm.
Hyperlocal temperatures allow for calculation of field specific GDU's.
Provides the most local data to make informed decisions on the farm.
View current weather conditions or historical weather conditions.
We Would Love to Hear From You!
Did you participate in the TAPS program this year? How did it go? We would love feedback on our Mobile and Web APP as we continue to improve the user interface and user experience of real time weather data.
We look forward to evolving with growers over time to provide the best and most useful weather data for decision making and risk management on farms across the USA.
You can find more information about WeatherScout by navigating to the EarthScout products page or by following this link.