EarthScout is a new innovation in agriculture that is designed to be inclusive to farms of all sizes, soils, and crops.
Bert Bouwman has been farming for over 35 years. He grew up farming in Brazil, moved to the Netherlands, and now farms in Minnesota. Bert and his family operate Twin Cities Corn Maze, a fall festival that draws thousands of people each year. They also grow a dozen different high value crops, including sweet corn, watermelons, cantaloupe, pumpkins, cucumbers, and strawberries, and sell them through local produce stands and major supermarkets.
In 2020, Bert and his son Berend purchased one EarthScout to help them save money on pivot and drip irrigation. Research shows many growers tend to overwater their crops as a precaution (up to 60% more water than needed to sustain healthy crop growth).
EarthScout's Grow Coaches worked with Bert to reduce his irrigation to the minimum moisture for healthy growth, just above the wilting point. Since then, they've saved over 50% on water and irrigation costs.
In 2021, they purchased more EarthScout units for their greenhouse, watermelon field, and strawberry field. In addition to big savings on irrigation, Bert has learned how to use EarthScout to dial in his drip irrigation system for growing the sweetest, juiciest watermelons.
We spoke to Bert and his son Berend (Bear) about how and why they use EarthScout to make management decisions on their farm. Decision points for soil moisture are dependent crop type and soil type.
"With watermelons and this type of soil, I try to stay at about 12% moisture, so I will start the irrigation and go up to 16% and let it come down to the 12%. That's the sweet spot that I have for my watermelon." Bert says.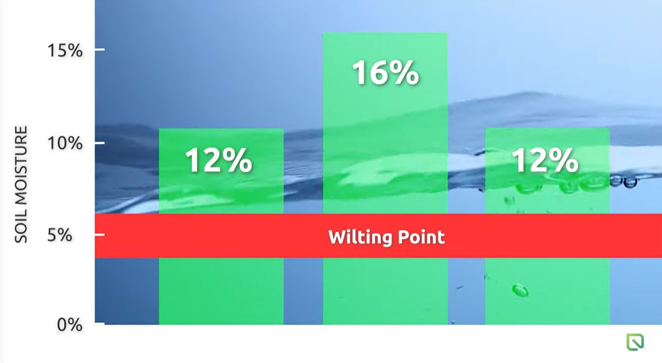 Bert continues, "With underirrigation, we could have what's called 'hollow heart' and that would be a not marketable fruit. Over irrigating, I will increase the cost of irrigating plus I will have a more diluted flavor. It will be a very juicy watermelon, but the flavor will not be there."
Bert has applied this knowledge to his strawberries as well.
"The soil in the strawberries is a little bit different, so I look for 16% moisture. We want to keep the water level low so we can have the sweetness, or brix content, higher."
Bert can know the brix of his berries by taste, so he was able to quickly dial in the ideal moisture level for the sweetest strawberries. He is using the data almost on an hourly basis through the day to make irrigation decisions and nutrient decisions on his farm. He is optimizing his watermelons and strawberries so that they are at the peak of flavor and freshness when it comes to selling at fresh markets.
The Bouwman's are also using EarthScout in their greenhouse, where we spoke with Berend.
"We are using EarthScout in the greenhouse to monitor solar radiation, air temperature, and humidity which is very important because the conditions can change drastically in a matter of minutes. EarthScout is fantastic for not only irrigation but fertigation as well, because we are able to see the conductivity of the soil. Conductivity let's us know when we have to put certain nutrients into the ground, and how to monitor and keep that consistent along with moisture." Says Berend. "We can see the moisture content, when we need to put water, and the deviation in the amount of water which is important especially with these cucumbers. We love the EarthScout because we can have alerts set up on our app and as soon of the temperature starts raising, we get a notification on our phone and we can take action."
EarthScout not only saves money and time, but also provides peace of mind.
Bert explains "The EarthScout gives me peace of mind because I like to know what's going on. Even when I cannot physically be in the field, I know what's happening."
EarthScout is a tool that a farmer, who is willing to improve on his quality, needs to have.

Bert Bouwman
We have enjoyed working with the Bouwman family over recent years while they have learned to manage water in a more sustainable way and optimize their ROI. Be sure to look out for the Bouwman's selling their produce at fresh fruit stands across the Twin Cities!
Visit our website to learn more about how you can save money on irrigation costs or give us a call at 877-443-7632.
Follow us on Social Media! and Subscribe to our YouTube Channel for more case studies!