EarthScout wireless soil moisture sensors are an affordable, solar powered smart farming technology that sends data to the EarthScout App in real-time and provides researchers and farmers accurate and reliable data.
EarthScout strives to be accessible to all growers of all sizes. In addition, we have chosen the highest quality sensors, making our products extremely valuable to research scientists. Our TDR soil moisture sensors provide the most accurate and reliable data, and they are ready to plug and play right out of the box (no calibration required), and all EarthScout products are made from industrial grade materials to withstand harsh growing environments.
Variable Rate Irrigation Case Study
Grant Anderson operates Anderson Farms, an 8,000-acre farm in Minnesota with roughly 100 center pivot irrigation systems. Grant is part of the fifth generation to operate the Anderson Family Farms in Belgrade, MN, together with his uncle and two brothers. They have a fair to finish hog operation and a beef finishing operation, as well as over 8,000 acres of center pivot irrigated cropland where they raise corn, dark and red food grade kidney beans and sugar beets on.
In this ongoing case study, EarthScout is partnering with University of Minnesota agricultural scientist, Dr. Vasudha Sharma and Grant Anderson to research the benefits of Variable Rate Irrigation for conserving water and nitrogen fertilizer.
Variable rate irrigation is a precision ag technology in which we put right amount of water at right time at right location. This technology allows us to use the inherent variability that exists in the field in terms of soil type, topography, elevation, and other things that exist in the field and apply only that which is required.

-Dr. Vasudha Sharma, Asst Ext Professor at the University of Minnesota.
Dr. Sharma selected a 120-acrefield that had a variety of soil types and elevations and divided the field into 8 zones. Within each zone, two EarthScout SoilCubs were buried to measure soil moisture real-time. The data from the zones was gathered and a prescription map was created and used to dial in the irrigation system.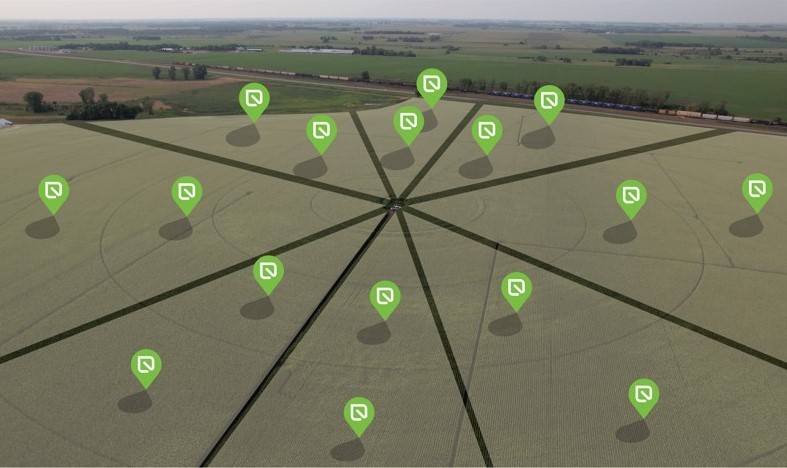 Variable rate irrigation and the center pivot we used in this study can turn the sprinklers on or off depending on where they're at in the field. Certain areas of the field might need more water and certain areas of the field need less, and some areas need no water they're close enough to the groundwater that we don't need to irrigate them at all. Variable rate irrigation allows us to use the water more efficiently and put it where it needs to be in the field.

Grant Anderson, Farmer
Growers must map their field soil moisture to set up variable rate irrigation systems and deliver the ideal amount of water across fields with variable elevation, moisture levels, and soil characteristics. In the past, it was very labor intensive to collect soil moisture data and write the required prescription map. Now with the use of wireless soil moisture sensors, like EarthScout, field mapping is much easier and more accurate because the data is delivered in real time, and you do not have to even be on location to review your data.
In addition, studies have shown that real-time soil moisture data can save center pivot irrigators significant money on fuel and energy costs, regardless of whether they used a variable rate irrigation system.
Before using EarthScout, Grant spent an average of $5 per inch of water per acre on fuel and electricity to power his irrigation systems. This came out to around $75 per acre each year.
Using EarthScout wireless soil moisture sensors, he was able to reduce his soil moisture by 30% to a safe level for healthy crop growth, just above the wilting point. This resulted in a savings of $25 an acre with EarthScout in his first season of use, with a total savings of $3,000 for every 120-acre field.
The water in Minnesota is a resource that we are free to use but there are pumping costs associated with it, there's electricity costs associated with it, so it's a money saving thing as well. We're able to utilize the water more efficiently as well as save money and save expense on the bottom line. We are not going to buy the sensors and all the equipment unless it shows a return to us. EarthScout has been right there to help us make better decisions in our fields and make more efficient use of our resources.

Grant Anderson
Growers in western states who pay for water could see additional savings as well.
Please visit our website at www.earthscout.com, or contact us at 877-443-7632 to learn more about how you can save money by measuring soil moisture in real-time with EarthScout sensors today!
Upcoming Events
International Society of Precision Agriculture Conference
June 26-29, 2022: EarthScout will be in Booth 1 at the International Society of Precision Agriculture Conference in our hometown of Minneapolis, MN. We are excited for the opportunity to immerse ourselves in the sessions and discussions surrounding top trending topics of precision agriculture for a few days. This is a hybrid conference, so whether or not you can be there in person, we urge you to sign up for this event.
Irrigation Field Day
On July 28, 2022, we will be heading to Belgrade, Minnesota to attend the Irrigation Field Day hosted by the Minnesota Irrigator Program. This event is at Anderson Farms and is designed to showcase new technologies and demonstrate water saving management practices.
Dr Vasudha Sharma will be there to discuss her VRI research, there will be information regarding soil texture and its effects on irrigation management using soil moisture sensors, information regarding sprinkler packages, and overall irrigation systems.
Our work with Dr. Sharma and Grant Anderson at Anderson Farms continues this year. At this field day, you will be able to see installations of our wide variety of products (including WeatherScout and Soil Cub which are scheduled to be released in 2023) on the farm. We hope to see you all there!
For more information and registration, click the link to the University of Minnesota Extension Website here: https://blog-crop-news.extension.umn.edu/2022/06/irrigation-field-day-to-showcase-new.html
Be sure to follow EarthScout on Social Media and our blog to learn more about grower education events in Minnesota, like the Minnesota Irrigator Program, and to keep up with our case studies, products, and collaborations.