This year in West Texas and in many other areas along the Ogallala aquifer, drought conditions are being experienced. The annual rainfall in West Texas averages 19 to 21 inches per year and this year less than 10 inches has fallen. According to the U.S. Seasonal Drought Outlook on the U.S. Drought Monitor website, drought conditions along the Ogallala Aquifer will continue to develop in many areas, including the Panhandle of Texas.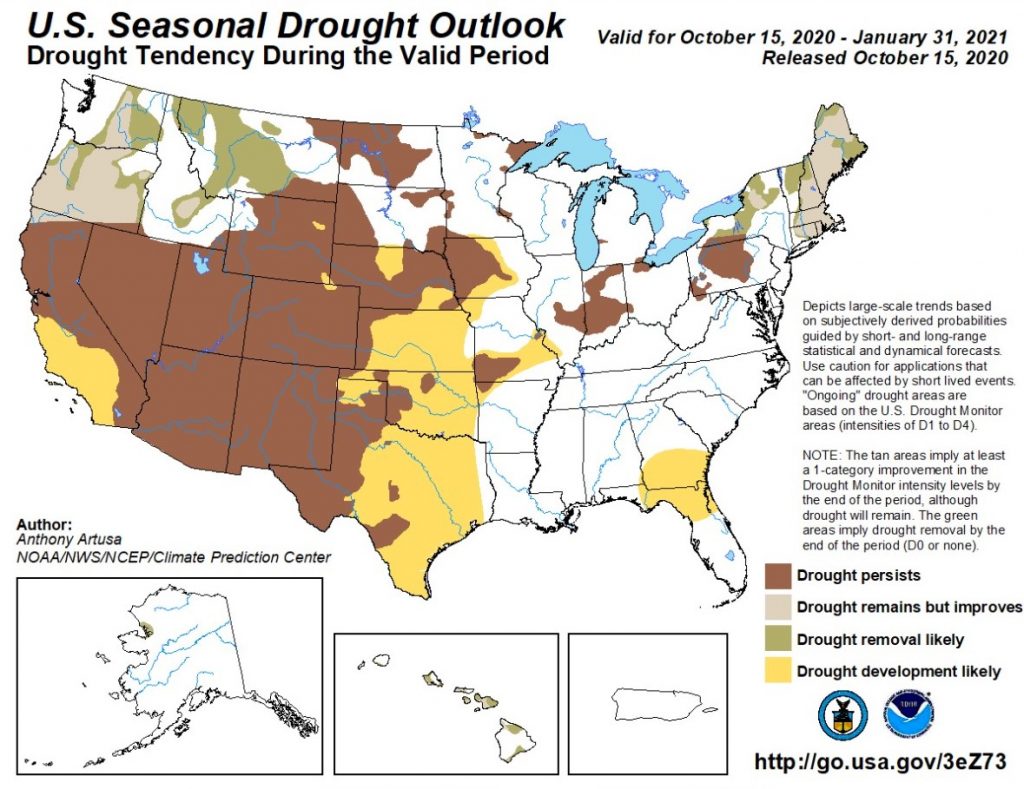 Wheat is more sensitive to drought during early vegetative stages when dry conditions will interrupt proper root development. Adequate soil moisture is critical during planting to help with successful germination and a nice stand. When a good stand is not achieved, weeds may compete with your wheat for moisture and nutrients all season long, negatively impacting yield.
EarthScout field sensors guide irrigation efforts more efficiently during critical development stages, especially when water is scarce. With EarthScout, you can monitor soil moisture real time, 24 hours a day via the EarthScout app. You can be sure that your crop is getting enough water to fully thrive and minimize wasting water during a drought.
Using real time soil moisture sensors in wheat (and other crops), EarthScout measures the rate at which soil moisture is depleted. Growers can manage additional water or make additional pivot passes to provide adequate moisture as determined by current growing conditions. EarthScout is also designed to allow for monitoring moisture at multiple depths. By placing two soil probes at different depths, growers can monitor moisture movement through the soil profile to further reduce water loss (and costs associated) from over irrigating.
Oxygen is also a critical component in the soil during drought that may not typically be on your radar. Monitoring oxygen is especially important if the area does receive a good rain or to monitor over watering. Plants thrive when they have a good balance between moisture and pore space (oxygen) in the soil. Just as excess moisture can reduce air exchange by filling available pores with water instead of air, some soils will occlude air exchange during especially dry periods (depending on structure, texture and mineralization).
While soil temperature is important during germination, it can also tell you a lot about how your crop may develop throughout the winter months. With a warmer winter, the wheat may not go through the critical dormant time or vernalization. By monitoring both soil temperature and air temperature, you can also determine wheat biomass potential.
In West Texas, many wheat fields are used for grazing of cattle during the winter. Using EarthScout to monitor your field can help calculate grazing readiness for the wheat and growth rate during grazing through soil moisture monitoring.
Much wheat is planted to dryland acres in Texas. While there is little that can be done to increase moisture on dryland acres, monitoring of the soil moisture can be critical, especially with plans to grow a second crop on the same ground. If you are looking to plant a second crop, perhaps milo, after wheat – soil moisture data may help you decide when conditions are right for planting.
In West Texas, hard rains may drop a lot of water at one time increasing water loss through run-off for dryland acres depending on the soil's infiltration rate. EarthScout sensors will provide you with moisture data you can use to make planting decisions during these times, you can easily see the amount of water that has penetrated into the soil, to what depth it has reached and estimate total water volume to drive better second crop decisions. EarthScout can be utilized seasonally, yearly and continuously to create powerful soil moisture models and decision-making tools.
Monitoring of soil moisture and rainfall can help you predict the yield of the crop, maximize efficiency of your irrigation systems, and track evapotranspiration in each of your fields.
For more information about how EarthScout can help save you time and money, visit EarthScout.com, or contact an EarthScout Growth Coach today at 877-443-7632.
Erin Sim works in sales and agronomy with EarthScout. She has 20 years of experience in agronomy across the southern USA and covers all crops, with an emphasis on cotton, wheat, milo, and corn as well as specialty crops for the high plains. She currently resides in the Texas Panhandle.